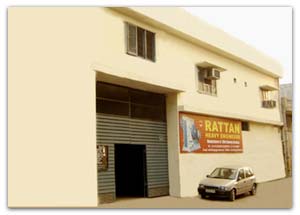 We wish to introduce our selves as one of the largest and most conscious quality manufacturers of Billet Shearing Machines in India. We have work force of approximately 150 people working in our unit.

Other Group Companies:-
Rattan Forgings
Rattan Hammers

Our Products:-

BILLET SHEARING MACHINES :- We do undertake to manufacture Billet Shearing Machine from 50 mm to 175 mm M.S. Square Shearing capacity as per clients requirements. We use heavy duty double spherical Bearings and G.M. Bushes in Main Shaft and Back Shaft.

BILLET SHEARING QUALITY :- Our Shearing machines ensure perfect cuts both for square ness and for cleanness of the shearing surface. "Rattan" technology allows a precise adjustment way alloyed & mild steels, aluminium, brass etc.
MACHINE'S DESIGN :- The beauty of our shearing machines are to incorporate maximum possible facilities to their users without incurring exorbitant investment. The frames of our machines are rigged & construction and high quality materials are used for their manufacturing. Due to our excellent workmanship and finish of our machines bears pleasant outlook.

GUARANTEE :- Our machines are guaranteed against any manufacturing defect for one year.